We had so much fun this summer traveling all around and visiting as many people as possible. We drove from AZ, then spent the weekend in Sam Diego, which was amazing and now I want a dream home on Coronado Island! Then we hit the road, and spent the night at a terrible and expensive motel 6 near Santa Barbara, CA. We continued driving along the beautiful coast of California loving the view of highway 1 and made it to San Francisco where we stayed with some old friends, the Hartel's who were in our ward in Provo. It was so fun to spontaneously visit them:) Then continuing along the coast it quickly got cloudy and the roads got progressively windey and it was slow going. We were making horrible time and decided we'd had enough if the coast and headed inland, bailing on our plans to go to the Redwoods :( We got a hotel for the night, got our brakes fixed (riding the breaks too much on those roads), and started getting exited again to get to Washington! What's a road trip with out some opposition right? The next day we made it to Oregon! We got to visit my old college roommate, Melody, and her family near Bend, Oregon. So fun! Then we stopped for a surprise quick visit in Richland, WA to my husbands family on or way to Spokane! And finally we made it!! We spent a week with my family in Spokane, and over a week with Robert's family in Richland, WA. What an amazing fun-filled summer!!! Here are some of the highlights:
Loving the beach in California!
Grama giving the boys a ride/bath behind the lawnmower. Too funny.
Riding the carousel in Riverfront park, Spokane.
These cousins had more fun than anyone!
Brady loved the Beach! (CA)
Playing horseshoes at my parents house.
Riverfront park
Riverfront park;)
Canoeing down the little Spokane River, so beautiful!! We've always wanted to do this together!
Playing superheros in Hastings:) Brady and Dylan.
Brady and Dylan climbing the trees together.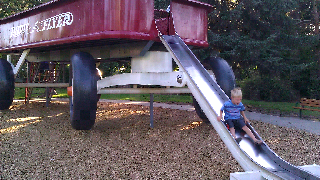 Riverfront park, Brady going down the big red wagon slide!
I got my fill of Crossfit with Marjorie Fox and Bri Thorpe in Spokane, so fun to see these girls!!
Family pic on our Canoe trip:)
I went golfing for the first time ever. I know right? My husband goes all the time, and I've never been! Fun day with Robert, Chris, and Ryan:)
More pics to come from Richland!:)